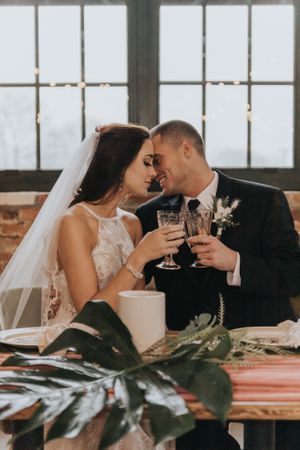 Packages starting at $1,800.
Limited 2020 dates available. Now booking 2021.
*Travel fees are NOT included but may apply to any package.*
Weddings with me are just as unique as your wedding day. By booking me as your photographer, you're receiving more than just someone to capture your day. I'm there for you 110% of the way, from the initial contract signing all the way to planning how you want to capture your memories. I have an organized system I use to make sure your time spent with me is not only efficient, but the best way to make the most of your wedding collection.
The Experience
If my job was to simply take photos of your wedding day, it would be the worst experience of your life! Nobody wants a stranger at their wedding - that's why I take the time to get to know both of you!
From how you met to your dreams of your future together, I want to know it all! From the initial contact to your big grand exit on your wedding day, you'll know that I'm in your corner and your biggest fan. My ultimate goal is for you to have a stress-free day. I mean I don't want to capture alligator tears unless they're by your Groom as you walk down the aisle!
So what's that mean for you? That means you'll have direct contact to me the whole time. Text, email, Instagram, whatever you want, you got it! You can literally ask me anything! Want to ask me if your bridesmaid dresses are going to clash with the venue in the photos? I'll tell you! Can't decide what to wear for engagement photos? FaceTime me from the store! I'll help you pick! Seriously - I don't care how "annoying" your questions may seem to you, I GOTCHU GIRL!
So we've shot your engagement photos, you've slayed your Bridal Portraits and now Wedding Day is approaching because let's be honest, it moves THAT fast waiting for it to come! By this point you're probably stressing over those final details and timelines and just hoping everything goes perfect because this is YOUR day. Well this is where my Type A personality kicks in and I'm right there with you the rest of the way.
I'll send you the most grueling questionnaire - okay not really grueling, but I want allllll the details of your day down to your Vendors - and a shot list that will help me plan your itinerary for your day! Once I have these back, you'll receive a completely custom timeline for your day, that way there's no photo surprises during your day!
Once your day is complete, you'll have a Highlight Reel delivered straight to your email within 48 hours! You'll have your full gallery within 6-8 weeks of your big day (unless otherwise specified/discussed because sometimes life happens to us all). Once your gallery is delivered, your wedding has the chance to be submitted for publication and even win photo awards! Yes, I'm that photographer that's going to brag about your big day just as much as you are!
Are you picking up what I'm putting down? Then click that cute little button and contact me to start our friendship - because that's what this will be!
Testimonials
Testimonials
"You were the only photographer that I felt a true connection with. From the very first message that we exchanged I knew you were different that all other photographers. This was confirmed when I called you at about 8 o'clock at night and you spoke to me on the phone for an hour and a half - needless to say, you were the only photographer that was more than just a photographer, but you were a friend and I knew from our first exchange you had my back."